Toastmasters Kent
Toastmasters & Masters of Ceremonies for all occasions
Weddings, Ladies' Nights, Mayors Banquets and much more...
Having been established in 2002 by Lesley Watson and John Oakley, Toastmasters Kent has developed into one of the leading providers of Professional Toastmaster services in the South East of England and are the recommended or appointed Toastmasters to many of the leading wedding and event venues in London and the South East.
John and Lesley first met in 1998 when, having given up their respective full-time occupations, they trained as Marriage Registrars and Celebrants for their local Register Office. In the course of their new work conducting weddings, they regularly came into contact with Toastmasters and both felt that this was something they would both enjoy doing and decided to undergo further training to be able to provide a professional service to the wedding and events industry.
Since then, they have developed the business by providing a very personal and caring service. Their attention to detail, friendly and respectful style, and ability to take control will ensure that your special event will proceed as smoothly as possible and take away the pressure from you allowing you to enjoy the occasion.
Toastmasters Kent are resident/recommended Toastmasters at the following venues:
If you would like to see reviews from some of our satisfied customers on our Facebook page, you can do so by clicking here.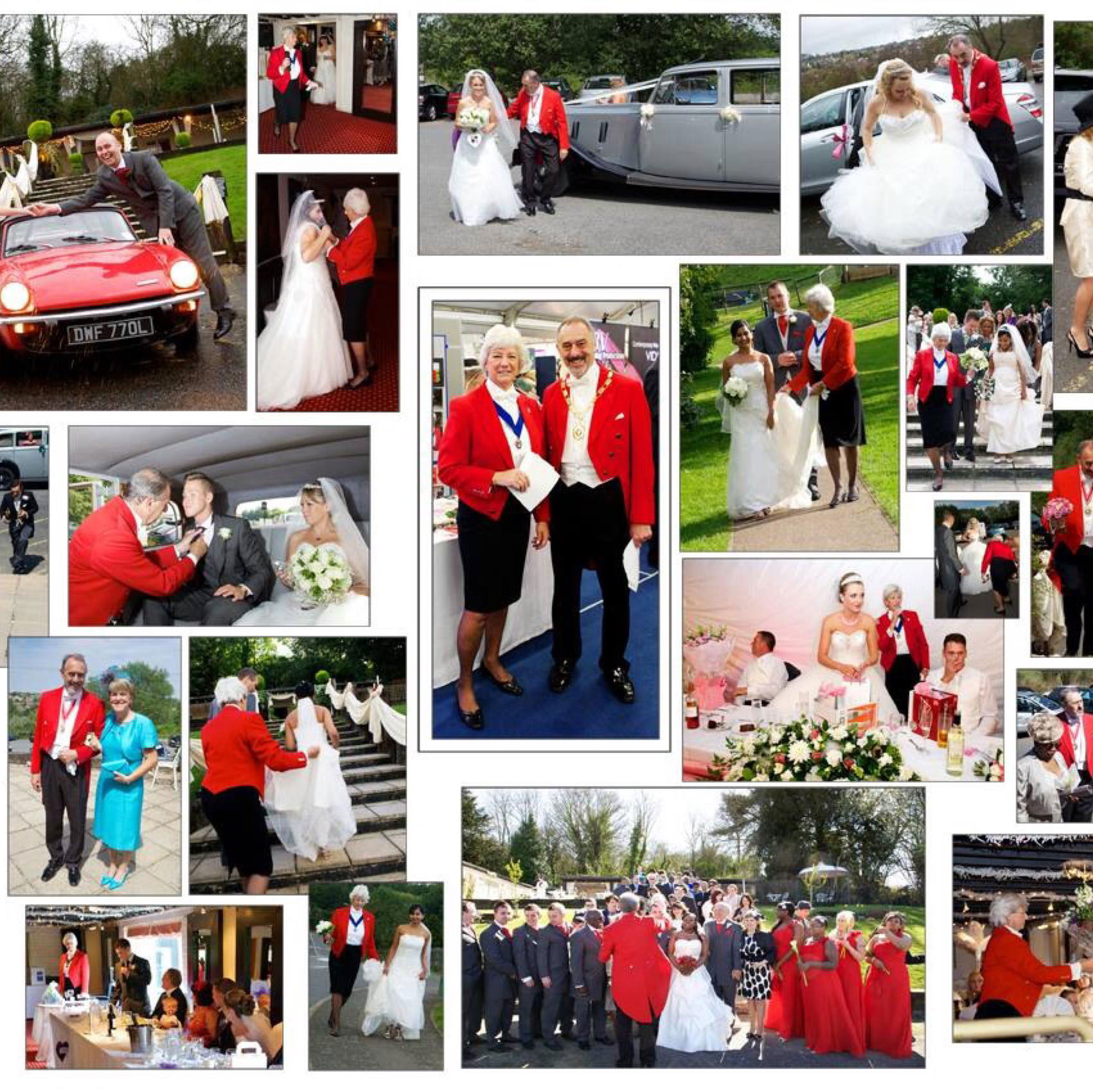 Weddings
We never forget, it is "your day, your way"
Much of a Toastmaster's work is at weddings both large and small. A Professional Toastmaster, resplendent in red coat and white tie, will add extra style and splendour to any wedding. They will provide confidence and be a calming influence on the Bridal Party and be a focus for both hosts and guests seeking help or assistance.
Their experience in respect of etiquette and protocol will ensure that all those with roles to play during the day, do so in the right order, and without embarrassment. Their ongoing liaison with all parties involved, including caterers, photographers and others will ensure that things run smoothly and as you would like.
Ladies' Nights, Formal and Informal Dinners
"Friendly Formality"
Such functions whether formal or informal will run more smoothly and have more style under the direction of a Professional Toastmaster. The Toastmaster will assemble the guests, announce special guests and "top table", organise raffles and auctions, present speakers and any cabaret acts, and gently ensure that the event runs smoothly.
Mayor's Banquets, Charity Events and Corporate Functions
The Toastmaster maintains discrete control and ensures that everyone is in the right place at the right time. Liaising with caterers, entertainers, speakers and the venue, thus keeping the programme running to schedule. Auctions and raffles can be conducted, speakers can be announced and proceedings wound up. Behind the scenes, the Toastmaster is doing everything necessary to ensure a successful event, thereby removing much of the stress and allowing you to enjoy the function.